Click this Web Fonts link to get the font and see the real Crusade pages.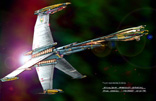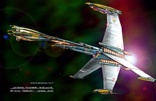 2267, 5 years after Babylon 5
With the threat of the Shadows gone, all is quiet on Earth -- too quiet. An alien race vows revenge for the loss of the Shadows and aims its wrath at humans, unleashing a deadly biogenetic plague. Only five years remain for the inhabitants of Earth unless an Alliance ship, The Excalibur, succeeds in its quest to find a cure for the mutating plague.
Only 13 episodes (of a planned five years) were produced due to difficulties (TNT's fault). They originally aired on June 9th, 1999 on TNT.

My Other Crusade Pages
.....GALLERY.....EPISODE GUIDE.....GRAPHICS.....
.....
.....CAST.....SEASON ONE.....

CRUSADE HOMEPAGES

EPISODE GUIDES

CAST